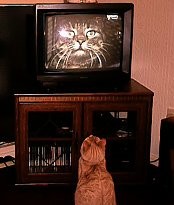 The T.V. program was a documentary about pet cats and Noah was engrossed probably by the background noises - all those miaows hee hee. The close up o the cats face on TV arrived right on cue!
Photographer: Malcolm From: Runcorn, Cheshire UK


.



Check out our Sponsor:

The Shopping bazaar
SEND THIS Cat-Photo to a friend or two.